Caddy Pad Jnr Complete Kit by Sisters Common Thread
The third size of iron tote/ironing pad - Carries your full size travel iron in style to class or retreat - gives you the ability to pack your iron away "hot" to travel home - no more driving with one hand on the steering wheel and the other carrying the hot iron as we were told once someone did. Opens to a 15 1/2" X 20" ironing surface - and of course, like our others, comes as a Pattern "Plus" with the heat resistant fabric included in the pattern.
Always have your mini ironing mat/board with you, undo the Caddy Pad Tote to reveal the heat resistant ironing mat, perfect for pressing seams while sewing and quilting.
Choose Your Complete Kit Colours. Our kits are changing constantly, and sometimes unfortunately we are unable to obtain the same fabric again, so what is available today, may not be available tomorrow.
Your Complete Kit Includes :
Pattern
Fabric for the Main Body
Fabric for the Bindings and Handles
Heat Resistant Fabric
2 Layers of 100% Cotton Wadding/Batting
2 x Buttons
Elastic for button keeps
If you wish to make another Caddy Pad extra Heat Resistant Fabric is available here
Support Challenge - Supporting Kids with Cancer
If you purchase this pattern with the Birch Mini Stream Iron or the Sunbeam Mini Pro Craft Iron we will donate $4.00 to Challenge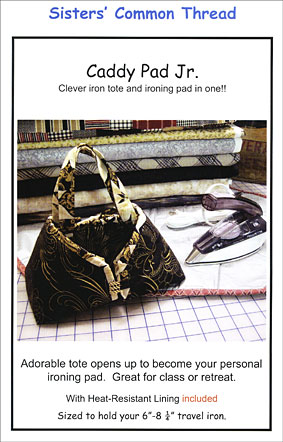 Caddy Pad Jnr Kit Colours:
Kangaroo