Epoxy Coconut Raspberry 65mm Button
These coconut buttons are really big and beautiful.
They have a rich shiny epoxy finish that makes them stand out from your hand knitted sweater or scarf. The perfect bold statement for your knitting or crocheting project.
These great buttons also make a perfect addition to an existing scarf, hat or sweater. Add this large raspberry red coconut button to any garment or project for a truly WOW look.
They are also brilliant on Handbags for an amazing "This is Who I Am" finish.
RR per Button is AU $9.80 Sewing Buddies Australia Price is AU $8.80 each
Size approx 65mm / 2 1/2 Inches
What is Epoxy ?
Epoxy is used to finish timber, it is extremely hard wearing, and gives a wonderful high gloss finish
So you Very Quickly and Beautifully go from :-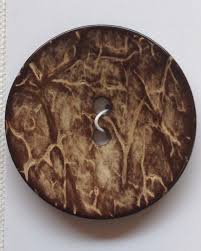 THIS TO THIS