Craft and Quilt Fair Perth via the Nullarbor
Getting to the Craft and Quilt Fair Perth Via the Nullarbor
Had a brilliant trip  this week, 3587 kms and 4 1/2 days from Melbourne to Perth via the Nullarbor
As always the trip was uneventful, except for a flat tyre on the outskirts of Port Wakefield, South Australia..thanks to the RAA all fixed and on my way promptly.  And a huge thank you to Ralph of Port Wakefield Motors, who worked on a Sunday morning to make sure I was able to continue my journey to the Eyre Highway, and the "Outback" on a Sunday, with a spare tyre. 🙂
I even hung a Sidecar Racing Club of Victoria Mug on the Mug tree between Eucla and Mundrabilla Roadhouses, next time I will have to take a "Sewing Buddies Australia" Mug, and  leave a little piece of the Craft and Quilt Fair Perth via the Nullarbor.
I also have to give a huge thank you to Terry a friend of mine from Perth, who met me at the South Australian / Western Australian Border, with his caravan and beautiful dog Oscar.  Every-one was a little concerned about my first trip to Perth on my own.  Terry came to the rescue.
The reaction of many people when I told them I was travelling alone was of total shock, and they couldn't understand why anyone would do anything so, in their words "silly".  But even though it is remote, travelling alone has never worried me, and the people on the trip across are amazing, and always have been.  If anyone is stopped on the side of the road, changing a tyre or with the bonnet up, everyone stops to make sure they are o.k.. It also must be one of the last places left where you actually wave to each driver you pass once you have reached the Eyre Highway.  It is like you have become part of the Nullarbor family, and you are taking part in something wonderful and unique.  Which of course you are, although many people do it on a daily basis.
My first trip across was when I was 8 with my parents, and have to admit even at that age, was not too impress with the 300 miles of dirt road between Ceduna and Border Village, but each and every trip I have done since then I have loved, the scenery is beautiful and constantly changing, and with each trip you encounter more people, including those who ride push bikes across, and I have even encountered a young man dressed as a storm trooper, walking across Australia for Charity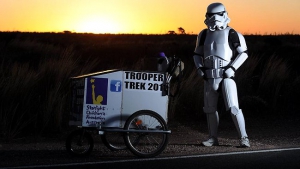 you can read more about his journey by clicking on the image.  Australia is a magnificent country, and I am proud to call it home.
Below are some images relating to this trip to the Craft and Quilt Fair in Perth via the Nullarbor