Grip Its For Free Motion Quilting by Sewing Mates
Sometimes we come across something that is intuitive and just works, no hassles, no extra equipment required, no huge learning curve, it simply does what it is supposed to do.
The Grip Its For Free Motion Quilting is one of those products, when Barb from Sewing Mates first sent me over a pair to try, I was a little sceptical, I have always been a quilting gloves girl.  I was amazed, I picked them and intuitively knew what to do with them.  Within 5 minutes I was happily Free Motion Quilting, and with lots of benefits over the gloves and any other thing I had tried to make Free Motion Quilting Easier.
Your hands rest comfortably on the Grip Its For Free Motion Quilting, I did not have to scrunch fingers trying to get a grip on the fabric
Because of the no finger pressure, it automatically removed the stress from both my shoulders and my back, I was sitting comfortably and relaxed
They work effortlessly with any machine, the fabric just glides and no slip mat is required.  I simply polished my sewing extension table and sewing machine bed with a high quality furniture polish (I used Mr. Sheen), and everything just glided exactly where I wanted it.  They will even work perfectly with a Sewing Machine Cabinet
It only took a couple of minutes to adjust the speed of the machine to exactly where I needed it for perfect stitches.
I did not have remove gloves to change the bobbin or answer the phone
I did not get the sweaty hands that the gloves normally give me
At the end of the Free Motion Quilting session about (40 minutes), I was amazed that I did not have sore hands, and there was no tension in either my shoulders or my back.  I am usually limited to the amount of time I can sit doing Free Motion Quilting because of the Shoulder aches and stress
They are excellently priced with a pair of Grip Its for Free Motion Quilting under AU$50
When Sewing Buddies Australia was at the Canberra Craft and Quilt Fair, I had Dorothy Clee from Russellee BNB helping on the stand, and I quite literally threw her in the deep end (Sorry Dorothy) and asked her to demonstration Free Motion Quilting and handed her a pair of "Grip Its For Free Motion Quilting" Dorothy had never seen them before, but within 10 minutes, she was extremely happy using them and had no problems with me taking a video of her working with them.  See the Video Below
I do understand that we are not all as brilliant as Dorothy Clee with a Sewing Machine, but as she was demonstrating, we were asking the ladies if they would like to try, and everyone absolutely loved them, to the point that we had sold out on day 2, had to take orders after that while I had an express shipment flown in from Barb from Sewing Mates in Oregon.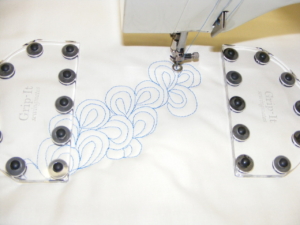 We are going to be featuring the "Grip Its for Free Motion Quilting" at the Brisbane Craft and Quilt Fair the 5th to 9th of October, Brisbane Exhibition Centre, Southbank, Stand B21 please stop by, say hi, and have a try, I am sure you will love them.
Below is the 2nd Video we took at the Canberra Craft and Quilt Fair